TIckets/Prices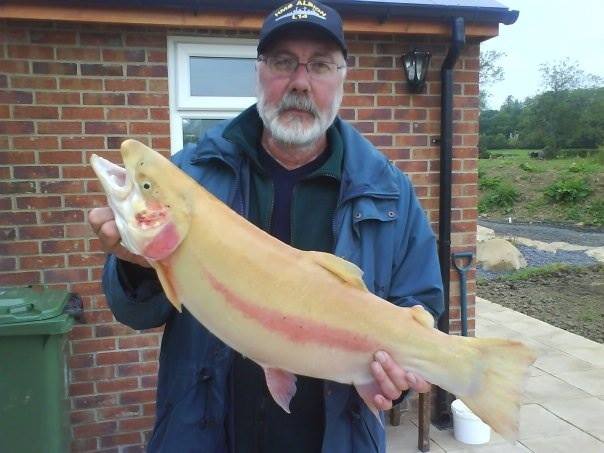 FISHING
Here at Higham lakes we offer quality Trout fishing to the fly angler ,With three lakes to fish,Two fly only lakes stocked on a regular basis with fish from 2lb to 25lb+.
Our "bottom lake" is run as a catch and release fly only specimen Lake with fish from 5lb - 20lb+ and is limited to 4 fish returned on a 5 hour ticket and 6 Fish on a full day ticket, anglers may then move to the top lakes for unlimited catch and release.
We cater for both the experienced and the novice angler and can offer tuition for those wishing to take up Angling.
we can also cater for corporate parties,competitions and clubs.
PRICES........
Any 5 hours 1 fish......................£18
Any 5 hours 2 fish......................£20
Any 5 hours 3 fish......................£22
Any 5 hours catch and release ....£16
Full day 3 fish............................£30
Full day 4 fish............................£35
Full day catch and release ........£25
For parent and child tickets (14yr old and under) add £5 on an adult ticket per child, Share bag, max 2 children per adult.
The specimen Lake is strictly catch and release Fly only and limited to 4 fish returned on a 5 hour ticket and 6 Fish on a full day ticket.
General rules.
Fly only.
All anglers must have an EA rod license.

All brown trout must be returned.
No social media videos i.e YouTube unless prior arrangement.
Catch and release fish must not leave the water at any point!.
Barbless or de-barbed hooks must be used for catch and release.
**Anglers only around the lakes no family members or friends.**
No bbqs,fires,radios and please refrain from shouting around the lakes and try and respect fellow anglers.
Max 3 flies per cast.
Bag limits must be reached before catch and release while fly fishing.
No double or treble hooks.
Anglers must not catch fish for other anglers.
No wading.
No propeller type flies.
Buoyant flies ie boobies must be fished on top of the water, or moving underwater.
Last rod on the water 3hrs before closing unless pre arranged.
Higham lakes reserves the right to ask any anglers breaking the rules to leave,We accept no responsobility for any injury,loss,theft or damage to property or persons.